Current laws developed to restrict texting and the use of mobile devices while driving are difficult to enforce and the penalties are nearly impossible to impose because they are so vague.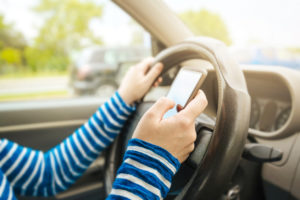 The penalty for texting and driving in Louisiana is hardly a deterrent; it is $25.00 for the first offense and $50.00 for the second offense. It is not considered a primary offense, meaning, officers will not stop a driver simply because they suspect texting, but if another offense is committed, they will include the fine for texting.
Louisiana mobile device texting laws prohibit new and underaged drivers from using cell phones while driving for any reason. The law does not allow writing, sending or reading texts specifically while driving regardless of age – however fatality and injury statistics indicate that most drivers ignore this law and the penalties are minuscule.
Current laws expressly prohibit the use of cell phones in school zones for any reason – unless there is an emergency.  The use of a cell phone in a school zone can net a $175.00 fine and license points as it is considered a moving violation.
But the current laws lack teeth because law enforcement cannot ticket drivers unless they can prove that they are texting – and they cannot prove texting because of right to privacy laws – unless they see the phone in the driver's hands.
Distracted device driving leads to injury and death
According to Mike 'Pete' Huval, a Republican member of the Louisiana House of Representatives, District 47, St. Martin Parish, device distracted driving is rampant in Louisiana.
"Currently our state is 49th in the U.S. for the most distracted drivers.  We're seventh highest for traffic fatalities in the United States," Huval said.
Huval's statistics indicate that 60 to 80 percent of accidents are caused by distracted driving.  The laws that are currently in place, he said, do not compel obedience.  "If people know that something is not enforceable, they will continue to do it."
The bill that Huval sponsored, House Bill 619, would prohibit the use of any device or technology in moving vehicles unless the device is hands-free and provide substantial penalties.
The people support the bill
Many residents testified in support of the bill.  Suzanne Salter testified; her daughter was killed by a driver that was texting. Gabrielle Madere testified; her five-month-old daughter was killed by a driver that was texting. And there have been hundreds more deaths and countless injuries.
In addition to prohibiting texting and receiving texts, Huval's bill would have prevented people from taking pictures or selfies, making or receiving calls, posting on social media, reading on the phone or using mobile phones in any way while driving a vehicle – unless they are Bluetooth or hands-free.
Leaders try to staunch the flow
More than 15 House and Senate bills – as well as binding resolutions – have been proposed since 2009.  All of the proposed legislation would curb the use of cell phones and mobile devices while driving, in an effort to staunch the flow of injuries and deaths due to distracted driving with a mobile device.
To no avail
Although he had backing from the people and insurance industry organizations, unfortunately Huval's bill stalled in the senate on May 18.  The bill will not be enacted.
If you are hit by a texting driver
If you or a loved one has been injured or suffered property damage as a result of a crash, and you suspect that the driver that hit you was on a mobile device, please call the law offices of Miller, Hampton & Hilgendorf immediately.  We are dedicated to obtaining positive results and compensation for medical expenses, lost wages, property damage and emotional distress following distracted driving crashes.
Our team of trained professionals has more than 30 years' experience – and the expertise to litigate the most complex and personal injury cases.  When you need answers, we are here to help.
Please call us at 225-343-2205, to schedule a free consultation.
Miller, Hampton & Hilgendorf
3960 Government Street
Baton Rouge, LA 70806
225-343-2205